As a marketer, researching the competitive landscape and executing a well-timed advertising strategy are two critical components in planning a Shopping campaign.
While there are several ways to conduct consumer research and to analyze trends, one resource that I highly recommend utilizing is Think with Google's Shopping Insights and Google Trends.
The data gathering found in these reporting devices offers a wealth of information for businesses looking to improve their brand's marketing and can aid in competitive analysis.
Shopping Insights
Google Shopping Insights is a great tool for advertisers because it uses search data to breakdown what products and brands are popular per category. As a retailer, you can use the data gleaned from the reports to gain an understanding of what consumers are searching for, who is buying a certain product and where they are shopping. Armed with this knowledge, marketers can adjust their ad budget accordingly.
Shopping Insights can show you how your brand compares to other competitors in your category. In the example below, both headphone brands saw a spike in searches during the period between November 20-November 26, 2018 with Bose QuietComfort 35 II ranking higher.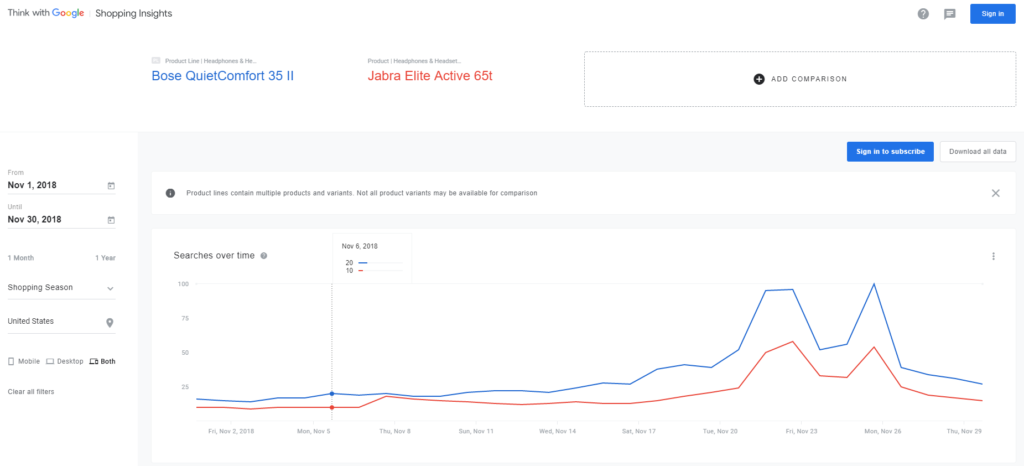 The data can be further parsed out by location, showing you regional stats for the popularity of a product as it relates to shopping searches. It can also show you how the searches were conducted – via desktop or mobile.
Let's say that your online store sells Bose QuietComfort 35 II headphones. During November 2018, the top city to search for this product was San Francisco-Oakland-San Jose, CA with Lafayette, IN coming in second.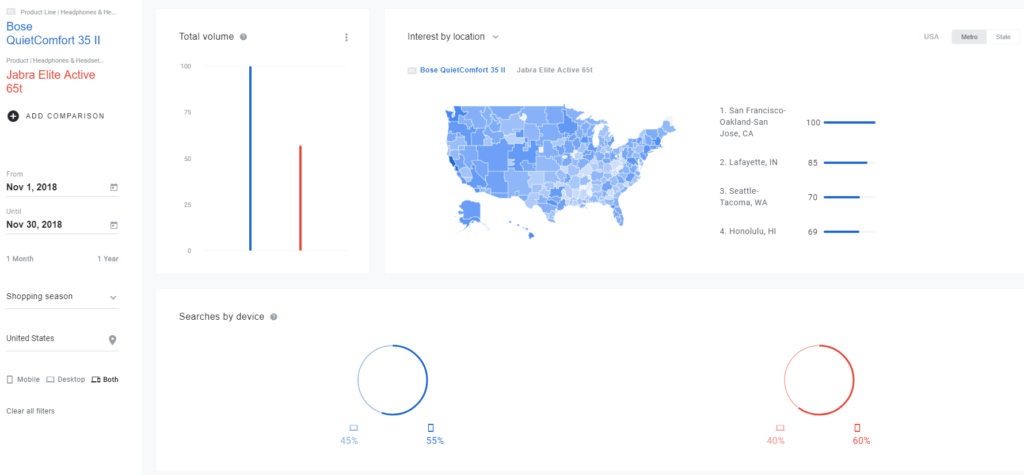 These stats can help an advertiser determine what metro areas to place most of their ad spend. If you know that these headphones are "hotter" in Northern California than in Tampa, Florida, then you would allocate your resources appropriately because you'll want to target your advertising campaign where it is popular and ultimately cheaper.
There is search data in Shopping Insights for over 100,000 products, brands, and categories. Now that we've explored Shopping Insights, let's review Google Trends.
Google Trends
Google Trends uses real-time data to show what news stories and topics are trending. Content creators can use that information to develop marketing content like blog articles and social media posts.
From an advertising standpoint, businesses using Google Trends will be able to gauge consumer demand in a product or brand. In turn, marketers can determine what is the optimal time to run a Google Shopping ad.
Let's say that your website sells Instant Pots and you want to know where and when to promote your product so that your ads get more bang for your buck.
Simply go to the Google Trends site and type in "Instant Pot." It will pull up the web search data for the past 12 months. The spike in web searches is late December.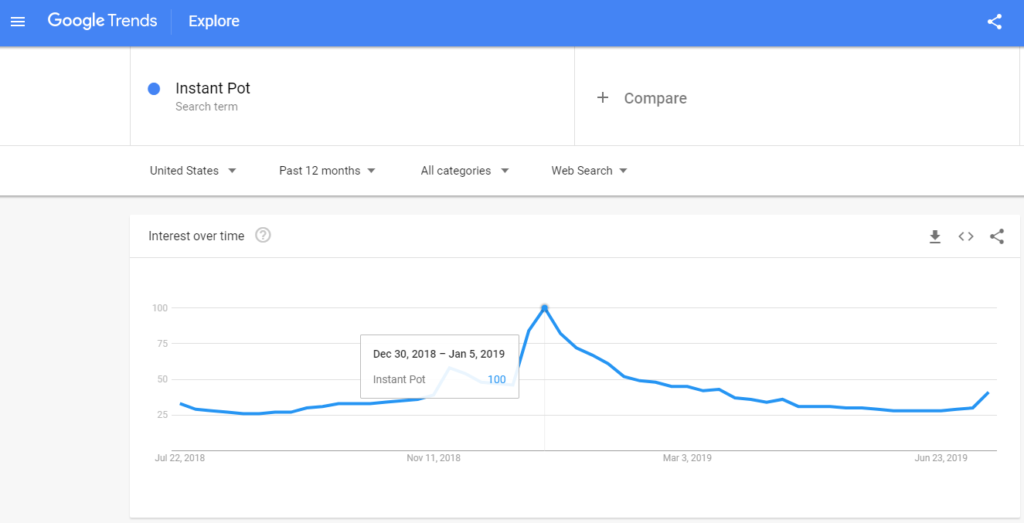 However, for our purposes, we want to change the setting from web searches to Google Shopping, which shows a spike in mid to late November. The states most interested in Instant Pots are Wyoming, Oregon, Wisconsin, Minnesota, and Utah.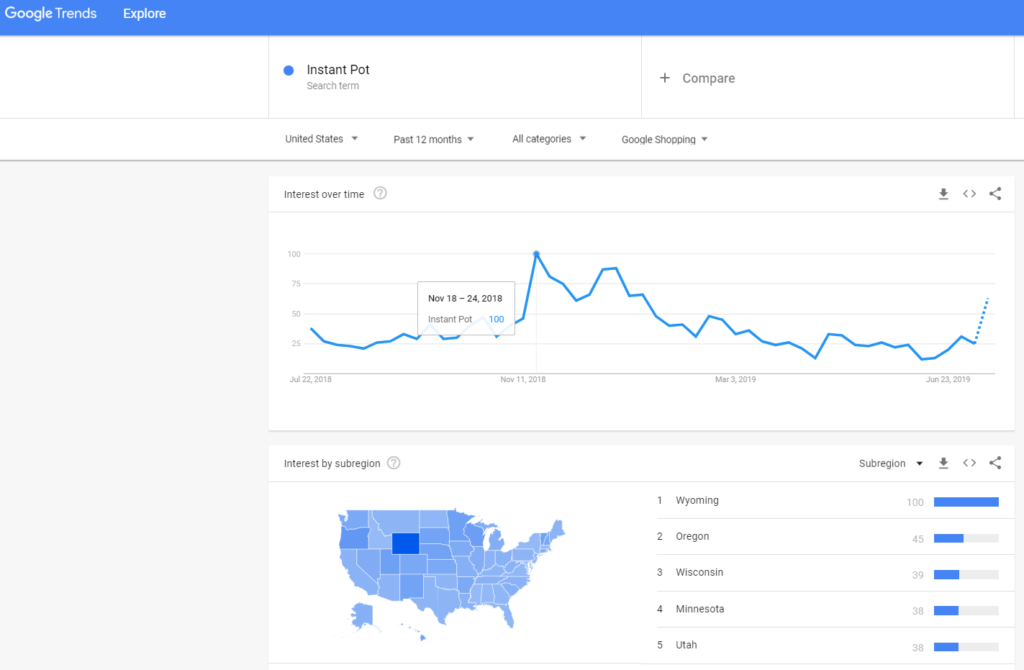 Therefore, you'll want to plan your Shopping Campaign so that it runs before November with a focus on those regions.
Need help with keyword research? Google Trends can help with that! Listed below are the related topics and queries for Instant Pot.

Google Trends can assist with seasonal holiday planning. For example, if the keyword "back-to-school" is trending and your online store sells school backpacks, then this would be the perfect time to optimize your products for your campaign.
Apply the information gathered from these Google Tools and you will help create a roadmap to success in your next Shopping Campaign.
About the Author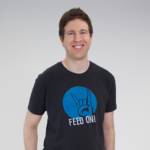 Brian Roizen is the co-founder and chief architect of Feedonomics, a full-service feed optimization platform that optimizes product data for hundreds of channels. He has been featured on numerous podcasts and webinars, and regularly contributes to Search Engine Land and other industry-leading blogs. Brian graduated summa cum laude from UCLA with both a bachelor's and master's degree in Mechanical Engineering.