There are well-defined and distinct skill sets for paid ads and organic listings.  Years ago it was usually one person's job to do both, but the disciplines and complexity have evolved and diverged. Most retailers have separate teams for paid and organic. It's rare for agencies to handle both with equal skill. Now, Google's free listings initiative pushes the two fields back together as Merchant Search Engine Optimization – MSEO (Messy-O).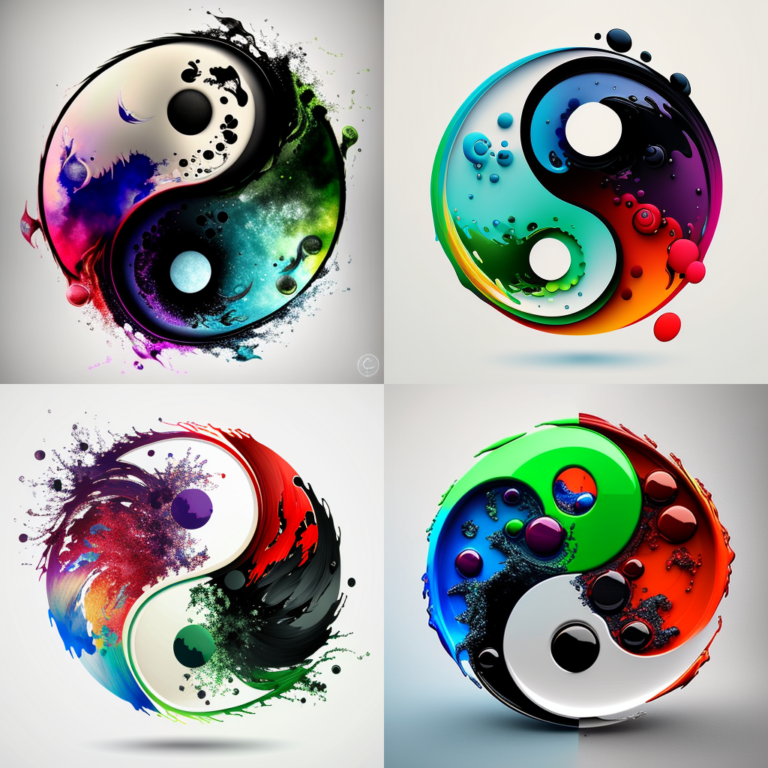 Google is working to make Buy on Google a viable revenue stream. In moving towards this goal Google has pushed more commercial results into the SERP and expanded the role of a retail product feed. The retail product feed now shows up across virtually all of Google's search surfaces. These free listings are cannibalizing top, mid, and bottom-of-the-funnel paid and pushing organic results further down the page. Free listings are chewing up real estate.
The tools to work with Free listings show up in Google Merchant Center and Google Search Console. Most SEO or SEM teams don't know what to do with them or how to optimize them. It's a new skill set for both. In this article, I will talk through the origins of Free Listings and how to best take advantage of them.
Background context - The slow adoption of Google Manufacturer Center
In July 2015 Google introduced Manufacturer Center. It was a new way to aggregate assets around a product. It was designed as a way for brands with downstream retailers to provide product details like videos, alternative images, highlights, or reviews, that could be populated into a knowledge graph panel. The knowledge graph would also display where to buy and a list of all the items' retailers.
All of the data was tied to a unique GTIN (Global Trade Item Number) assigned to that product. Because all the downstream retailers used the same GTIN the listings could be aggregated into the knowledge graph. 
Many brands tested the Manufacturer Center but then decided to opt-out. For brands that are also retailers it hurts their ability to progress in Google Shopping. Dominant brands want more than one result in the paid listing. Manufacturer Center showed all retailers for the products evenly. The only differentiator is price. The knowledge graph may be better for consumers to quickly get important details like ratings and price, but it is worse for retail advertisers that want to focus on acquisition. 
Because retailers weren't opting in Google hired contractor companies to scrape the web and assemble manufacturer-style listings for products. Scraping reviews from places like Amazon or eBay and assembling them with scraped images or videos that could be found anywhere associated with that product's GTIN. 
Many of these scraped results were haphazard with no way to opt out or change how the products were presented. Sometimes a random negative review would be featured for the product that would kill sales. Sometimes a product with a wildly different price would be thrown into the mix. 
It's believed that Google has moved the scraping in-house and gotten better at it. Now it's difficult to find a product or category with share GTINs that doesn't trigger a Shopping Knowledge Graph for either free or paid listings.
In some ways, this functions like an Amazon product listing. If there are multiple vendors for the same product, they can all edit the product details displayed in the knowledge graph.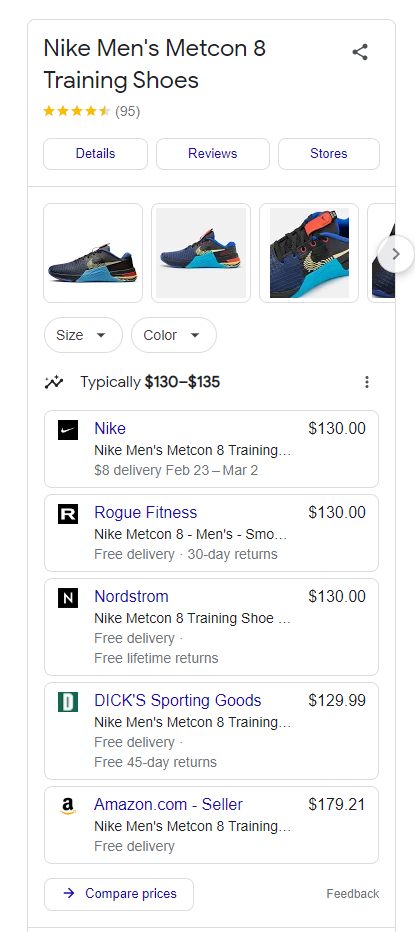 The rise of Google free listings
Some of us old heads remember Froogle, the free version of product listings that became Google Product Search in 2007. Google has a history of using free to gain traction before monetizing the product. Free listings came back in the Spring of 2020. These free listings were primarily on the shopping tab as thumbnails under the paid listings. It may have started as a strategy to make the Shopping tab more useful. It added much more content and the ability to filter by more criteria. But Google was just getting started with Free Listings. Currently, free listings are populating on all search surfaces including multiple times in the main SERP,  images, the Shopping tab, and within discover news feeds. It's becoming difficult to trigger a non-commercial search without free listing results. 
It appears the role of modern Free Listings is to build a market for Buy on Google.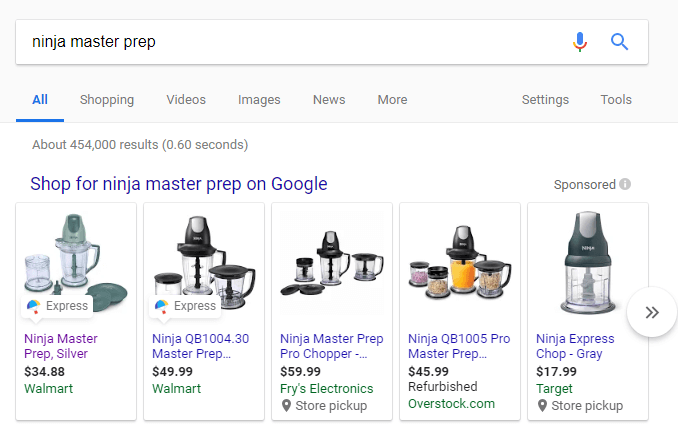 Buy on Google started as Google Express or Shopping actions. It operated strangely like an affiliate program with Google as a brand affiliate for Express Shopping. The goal seemed to be to promote Google Pay.
Since most people didn't have Google pay the adoption was low, even with an insanely strong incentive: top placements in the search listing. It was a chicken or egg problem. If there were more users of Google Pay there would be more adoption or if there were more adoption there would be more users of Google Pay. Neither materialized.
Express/Shopping Actions didn't work out, but Google had found its holy grail quest. A way to monetize the SERP outside of the traditional ads model.
It's been said that if people know what they are searching for they start on Amazon and if they don't they start on Google. Amazon is a much stickier experience. Google has been trying to figure out how to make their experience more sticky to monetize actions beyond search. Buy on Google could generate billions in payment processing fees without the overhead of distribution networks like Amazon's or the service ecosystem of Shopify. 
Beyond transaction fees, Google will gain even more transactional data. Payment data is hard data that doesn't depend on cookie-relayed transaction information and isn't subjected to attribution woes. It's data that includes deeper consumer patterns for loyalty programs and product recommendations.
How to become a master of MSEO
All modern e-commerce platforms like Shopify, BigCommerce, Magento, or Woo export a base feed. Some services like Feedonomics or Wakeupdata can extend or optimize these base feeds. In Google Merchant, you can use Feed Rules or supplemental feeds to accomplish most of what a retailer might need.
We will go beyond the idea that feed optimization is keyword stuffing descriptions or adding "| brand name" to the end of a title. Some specific attributes have been rolled out that work only in free listings. Other attributes help you rank higher. And there are still others that will help you convert. Let's work through a few of the most important feed attributes that might not automatically be in your feeds. 
Additional images are often perspective shots that live on the product detail page, but they can be much more. Additional images can be carefully curated for the experiences across Google. This example is a hover experience on desktop. On mobile, it can be a slider with up to 10 images. 
Additional images can provide product detail and context that's not available in a standard and somewhat sterile on white product catalog shot. Additional images will improve click-through rates. CTR has long been a primary ranking signal for Google.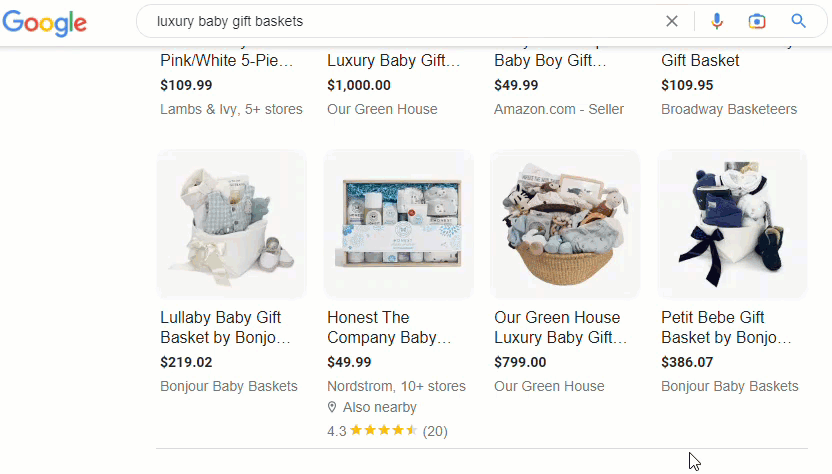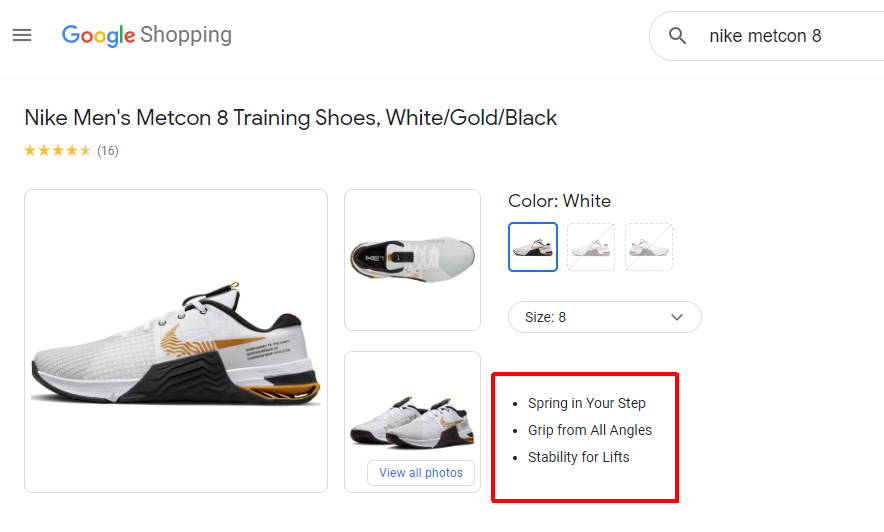 Product highlights can be the bullet points from your product detail page. This underutilized attribute improves free listing results with quick feature/benefit information about the product. 
The recommendation is 4-6 highlights per product. Highlights should be clear features or benefits but can't include promotional text like prices or sale dates. 
This attribute is not a place for keyword stuffing. It's a place to sell your product. This is where having a good product detail page copywriter can help.
The lifestyle image attribute is new. It allows brands to show their products in use or full context. Currently, these serve as additional images in the Free Listings and populate the open beta for discovery ads. We expect these to be given special weight in free listings in discover as adoption climbs. 
Since it's so new most e-commerce platforms and feed optimization platforms don't have a way to import lifestyle images. Waterbucket.com made a quick curation tool that exports lifestyle images to Google Merchant Center as a supplemental feed. Reach out to the team there for early access.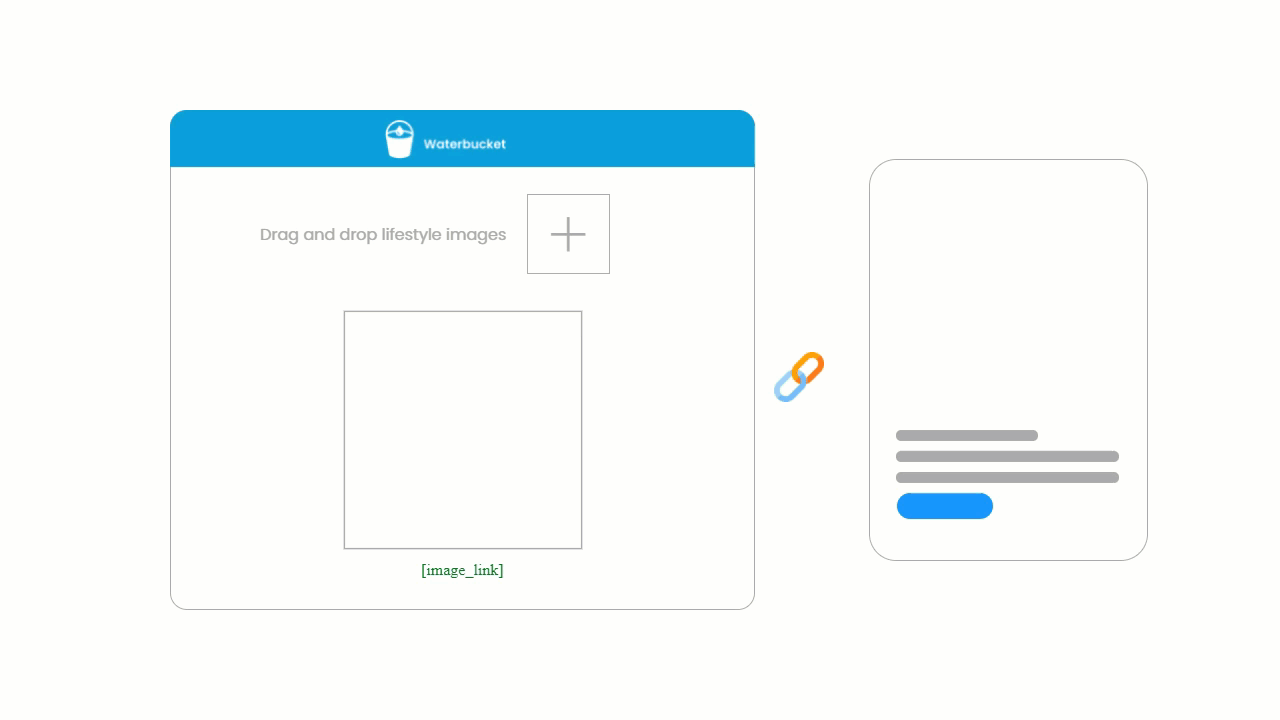 Product ratings and customer reviews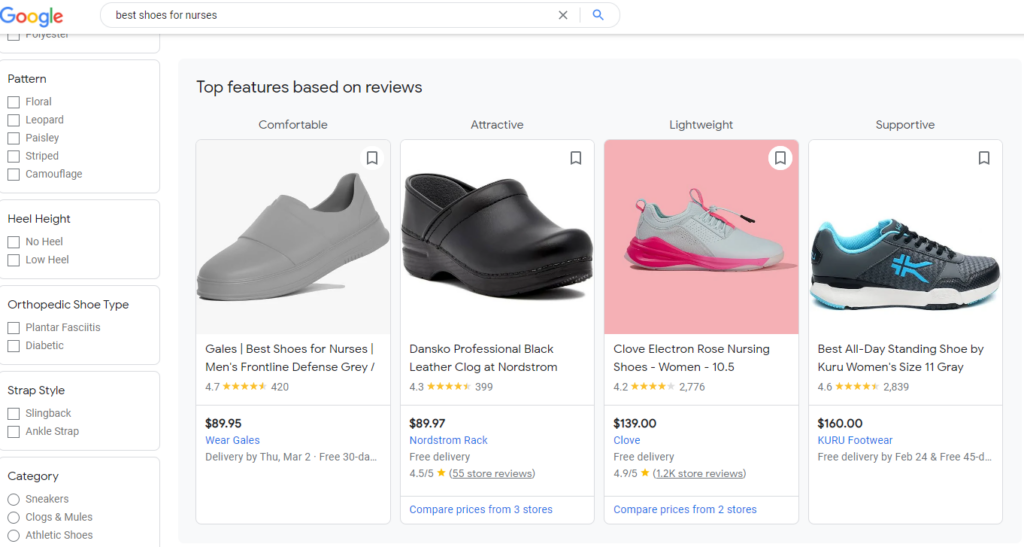 Google is trying to increase the relevancy of Free Listings by using external clues. Much like external links are used to establish authority in traditional SEO, trusted ratings and reviews appear to be a strong ranking signal for Free listings. 
Most of the time Google appears to prefer 3rd party reviews in the knowledge graph to reviews on the product detail page. 
Ratings and review vendors are still not optimized for these types of results. There seems to be a lot of opportunity for improvement. 
We know some of the best practices for optimization but there are still some open questions we'll need to solve as a community or with some future guidance from Google.
What details can we include in the feed for the filters on the Shopping tab?  Google seems to be inventing filters out of thin air. What's the best way to optimize for individual brands? How can we leverage attributes to make the filter experience better?
Google is joining content and free listings across different search surfaces. How should content SEOs write content designed to trigger free listing shopping results for their brands?
Should brands syndicate out reviews to third-party sites to give those reviews more authority in the search?
Will we see direct integrations with e-commerce platforms and payment processors? A direct relationship with Shopify would better position Shopify and Google against Amazon.
Will free listings be expanded into feeds other than retail? Will travel, entertainment, or vehicles be next?
How much effort should we put into MSEO compared to the product detail page? Can a good experience mimic the PDP?
Free listings are measured in the merchant center and in Google Analytics 4 if they opt-in. Will there be ways to determine attribution/contribution to conversion if they are a touchpoint?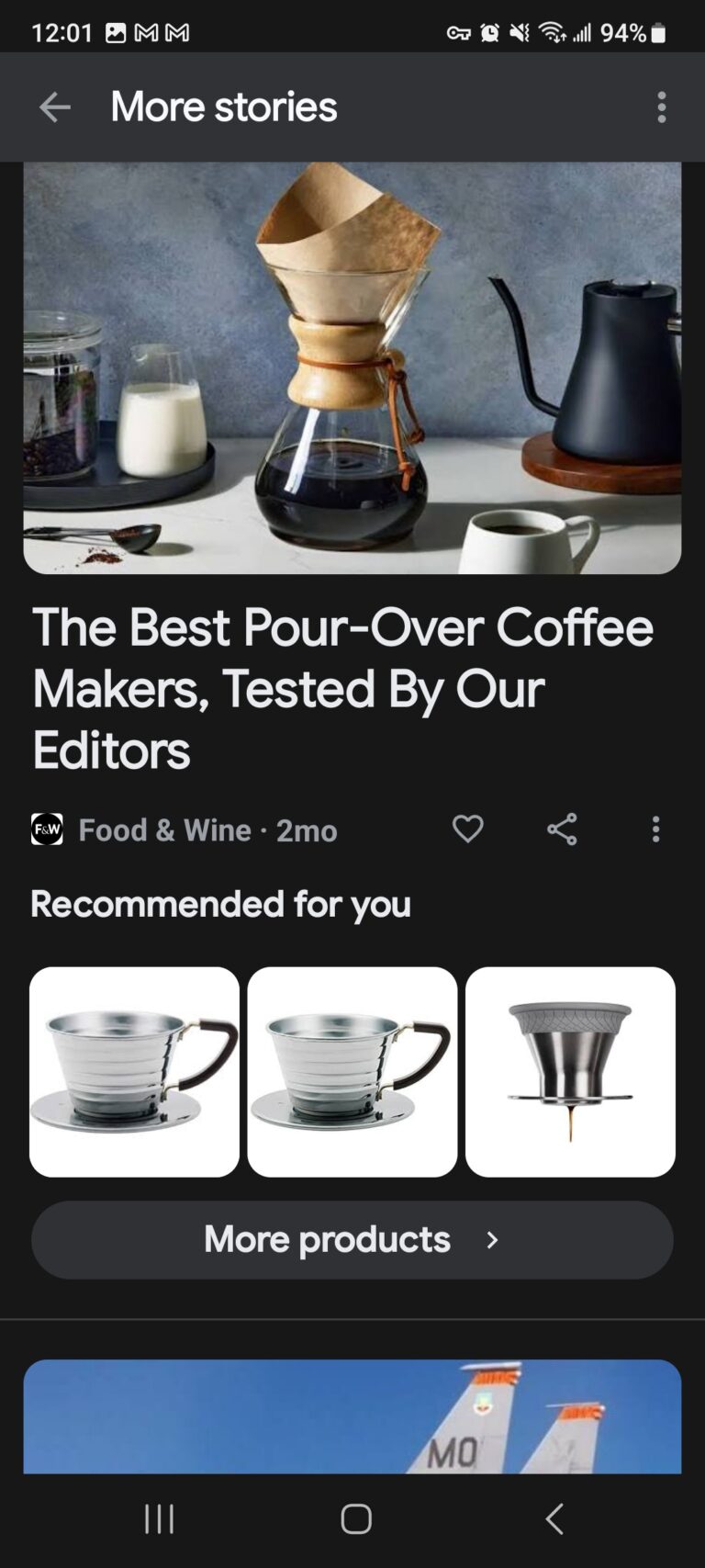 What do you think? 
Are you upset there is a new acronym to remember?
Did I miss something important?  
Do you have a Merchant SEO problem to work through? 
Please get in touch.