Great creative can make all the difference. This is an example of what is possible with HTML5 banner ads:
The following is a guide from the basics of remarketing to advanced targeting.
Remarketing Creative 101 – Display Ads
Remarketing and Retargeting are interchangeable terms. They are used to describe outreach methods to re-aquire addressable users that have recently interacted with a website or app.
There is a lot of mystery surrounding how Remarketing works. In reality, it's one of the easiest and most profitable types of advertising that you can run. In fact, it can look terrible and still get results because it's so effective.
At it's simplest, remarketing is building rules to identify a group of users with similar behaviors. For example, users that have visited the shopping cart page but have not visited the success page. These users become the audience.
Once we have an audience that is large enough (usually more than 1,000 to be able to run on most ad platforms) we can begin to design display ads that are specific to that audience. In the example above it could be an offer to entice them to complete their purchase "Flash offer, complete your purchase in the next 24 hours for free shipping!"
This creative type is referred to as a static ad, even though it may have elements in motion to draw the eye. The following Weber brand ad example:
The goal is to get the user back into your funnel. People generally like and respond to gentle reminders. It's a way to keep your brand, product, or service top of mind for your users and to extend your reach beyond just your website. We like to think of it as building offsite user experiences.
You might ask, "Won't these people buy anyway?" The answer in many cases is yes for some, but not for all. The incrementality of Remarketing has been proven time and time again. It's a multi-billion dollar ad industry for good reason. Some people simply need to be prompted to action. All of us need this sometimes.
Remarketing Creative 201 – Dynamic Retargeting
In practice, this is done by a pixel on an ecommerce website that can pass information from product detail pages such as a product id. The system associates users with the product id they viewed. Using an uploaded product catalog the system can then generate an ad in real time for that user with the product they previously viewed.
Dynamic Retargeting uses Dynamic Creative. The creative in the ads are linked to a lookup table. This is very useful for ecommerce companies with large catalogs. If you have hundreds or thousands of products it can be very time consuming to make custom ads for each product.
While Dynamic ad systems require more setup time, they can create highly relevant effective ads with less management. They have become standard for most ecommerce companies. Facebook, Google, Criteo, Adroll, and Steelhouse all offer some type of dynamic remarketing pixel. All the platforms offer cookie cutter templates for dynamic ads that require minimal creative input. The out of the box templates may not look great, but often times they work very well.
Remarketing Creative 301 – Dynamic with Value Messaging
This is a combination of custom ads for audiences with dynamic elements. An example of this would be site-wide flash sale with all products 10% off. Using HTML5 or AMPHTML Iron Pulley, in tandem with your creative team, builds ads that have both your promo and dynamic content. High value messaging combined with relevant products increase user engagement.
Remarketing Creative Ph.D. – Creative Diversity
Variety combats banner blindness and builds affinity. An intentional combination of ad formats, ad sizes, and value propositions can become a force multiplier, magnifying the reach and effectiveness of a remarketing campaign.
Simple product ads
Lifestyle brand ads
Value proposition and text ads
Promo ads
Social proof ads
Ads with similar products
The persuasive ideas at work here are chunking and anchoring. The brand and product become the anchor. Bits of value proposition information or lifestyle imagery is delivered in digestible chunks. In concert, they build to trigger action.
Iron Pulley and the 3 Pillars of Remarketing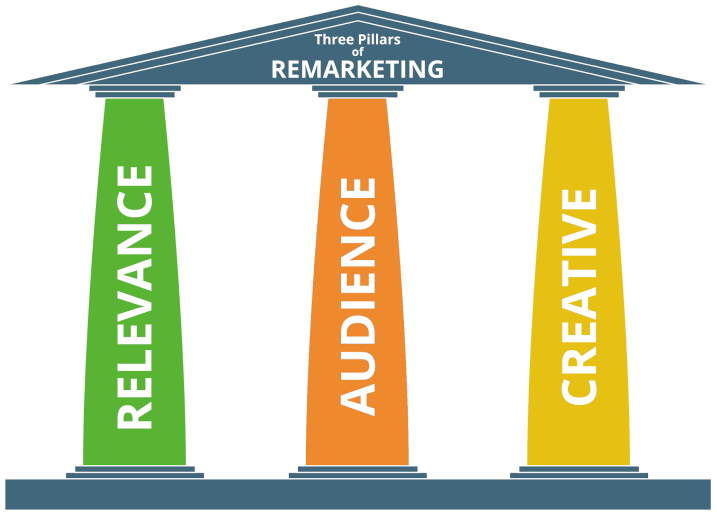 No matter where you are in your remarketing journey, 101 or Ph.D., for a campaign to be effective it must rest on these three pillars. When we take over campaigns these three principles is how we diagnose performance constraints. When we build a strategy for new campaigns, this is where we start.
Relevance
We are all over saturated with information on a daily basis. Our minds have developed defense mechanisms to tune out whatever is irrelevant. The beauty of remarketing is that the user has already told us what is relevant to them by visiting our site. The first diagnostic or strategic step is to make sure the technology that shows the correct user the correct product is working. This is pixel work, if it isn't working perfectly it doesn't matter how good the rest of the program is. Users will ignore ads that show them irrelevant information.
Audience
Effective audiences are segmented by intent signals. A user that added a product to their shopping cart but abandoned the process has shown a higher level of intent than a user that visited a product detail page and bounced. Both have value, but the bid for ad impressions should correlate to the intent signal.
Similarly, a user that has been on the site in the last three days is more likely to act than one that hasn't been on your site for 60 days. Both have value, but the more recent the visit the more valuable it is.
Creative
We believe remarketing ads should be a seamless extension of your brand's onsite experience. Consistent look and feel is key to communicating brand identity. Our team integrates into your creative team's workflow to build assets that align with your brand style.
Reach out to sales@ironpulley.com to see how we can collaborate to make your creative the best it can be.